In my last Daily Mom Style post, I mentioned:
a) feeling silly featuring yoga pants in a style post, and
b) possibly cutting back on Daily Mom Style posts or changing them up a bit to focus more on one specific (hopefully interesting) outfit.
The latter suggestion was met with much weeping, wailing and gnashing of teeth.
Okay, so that might be a bit of an exaggeration, but several of you piped up and asked me to keep going, so I probably will.
The reaction to the first suggestion was enlightening. Not only do you appreciate seeing what I wear on the days that I revert to my comfy yoga pants, but it was even suggested that I do a post about how to look put together wearing yoga pants.
Well, I decided that was a fine and dandy idea for a Fashion Friday post. After all, the reality is, most women who spend the majority of their time at home do not get dressed to the nines every day. I do appreciate how I feel when I put on pants that button, but I also think that it's possible to wear yoga pants in such a way that they are fit for public consumption.
The key AS ALWAYS is proper fit. I'm sure we can all agree that wearing your ragged sweatpants from college with PINK splashed across your tushy and your husband's oversized, hole-infested sweatshirt is a big no-no. So assuming we are way beyond that, here are some practical tips for looking pulled together in your sweats.
My biggest pet peeve, and the thing that I think that I notice the most that detracts from looking pulled together when wearing athletic great is when the yoga pants are too short. (Or, conversely, when they're too long and dragging on the ground, but I notice the too-short issue much more often.)
I know it's hard when you're tall, but try to find a brand that makes longer lengths if you need them. Personally, I can attest that Athleta's yoga pants come pretty long (even in their regular length), and they also don't shrink. I know this because I've tried to shrink mine. They are just a quarter inch too long, and I sometimes find myself walking on the hems. Annoying, but they still fit the best of any brand I've tried. (That is not to say that they will fit YOU best, but it's a good place to start.) They also come in long and petite sizes.
I have two pair of black Athleta yoga pants, and I'm about to buy another. 
They come in different colors, but honestly I just like the black. I'm a plain jane like that.
Athleta makes several styles, but this Magnolia Pant
 is the cheapest at the moment. Some are more fitted and some are a relaxed fit, so there's truly something for everyone.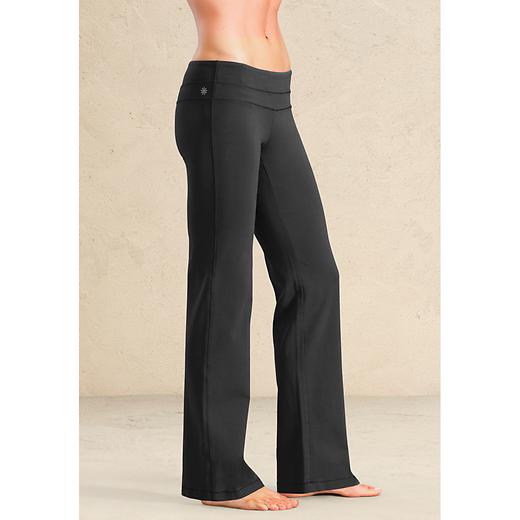 As for the rest of your outfit, it's really all about what you like. I prefer zip-up hoodies, but of course there are all kinds of pullovers and you can also wear a drapey sweater, which helps elevate the yoga pants to make a bit of a fashion statement.
Then I usually just wear a simple tank underneath, but I also have a few cute tees and tops that I sometimes wear for the under layer. If you're a regular around here, you've seen them all.
My rule of thumb is to wear one bold color. So if I wear my gray fleece zip-up hoodie (a current fave) with my black pants, I wear a colorful tee or tank underneath. I like it when the hem of the under layer shows a bit, but sometimes it doesn't work out that way. If I wear a bolder color sweatshirt, I stick with a neutral tank.
And really, that's it. I mean, this isn't rocket science here. Make sure all your pieces are clean and fit well and are fairly current trend-wise, then go forth and be comfy!
Here are a few outfits I threw together on Polyvore as examples.
The other thing that bears mentioning is that if you ARE going to wear sweats all day, that does not give you license to forego the shower. NOT to say that I always follow my own advice, but I try to still at least throw on some makeup even if I don't do the whole shower/blow-dry routine.
That is probably the single biggest thing that keeps you from looking schlumpy when you're wearing sweats. Put on some makeup, brush your hair and throw on some earrings. It makes a WORLD of difference, and it only takes 5 minutes.
Whaddya think?? Anything I left out??
For more  fashion for women over 40, sign up to  receive my fashion & beauty digest  in your email inbox for a weekly recap of my fashion and beauty posts!