** This post is sponsored by Fossil and ShopStyle Collective. Thanks for supporting the retailers that support this site.
Some of my favorite handbags over the years have been from Fossil, but somewhere along the way, they fell off my radar. This season Fossil is returning to where they started, with a love for vintage with a nod to mid-century design, and I'm happy to see they're still making quality accessories that are stylish and accessible!
1 // 2 // 3 // 4 // 5 // 6 // 7 // 8 // 9 // 10 // 11 // 12
I'm also loving the new Fossil Heritage Collection, which features classic watches inspired by the past, bags with archival touches, and timeless jewelry.
Fossil's leather goods and accessories make great gifts for the holidays and beyond, so I rounded up some of my favorites to share with you today. Also, you can save up to 40% off on select items through December 4th. Unfortunately, the Heritage Collection is excluded from the sale, but they still make great gifts!
Gifts for Men
Dark Brown Haskell Double Zip Workbag // Now that many are headed back into the office, the Haskell Double Zip Workbag makes the ideal gift for the man on the go. It fits up to a 15″ laptop and zips closed. I love the brass detail, and the shoulder strap makes it easy for carrying.
Brown Steven Bifold // I ordered this classic bifold for my 23-year old son for Christmas, and I added a personal touch by getting it embossed for free with his initials. Fossil is known for quality and attention to detail, so I know he'll have this wallet for years.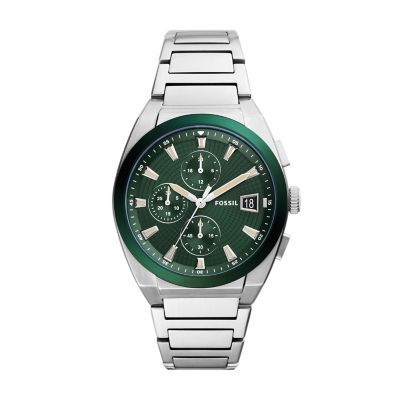 Everett Chronograph Stainless Steel Watch (30% off) // The green dial really makes this watch stand out, and you can have it engraved for free! Plus, it's 30% off through 11/28, bringing it down to $133!
Townsman Automatic Tan Eco Leather Watch // This handsome leather strap gives this chronograph watch a more casual vibe.
Heritage Automatic Luggage Leather Watch // And this one has a distinctly minimalistic look and feel that is classic and understated.
Gifts for Women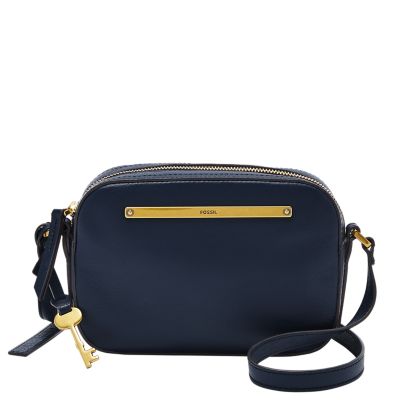 Blue Liza Camera Bag (40% off) // This adjustable crossbody is such a great size, and I love the sleek camera bag style. The inside has one zipper pocket and 3 credit card slots, so you don't need a wallet, and the back of the purse has a slide pocket with a magnetic snap. The soft eco leather feels luxurious, and the option for personalization makes an extra special gift. Best of all, this bag is 40% off through 12/4, bringing it down to $108!
Green Wristlet // This wristlet is perfect for keeping your smartphone and keys from getting lost in a larger bag, or a minimalistic pouch when you don't want to carry a purse. It would be perfect for my daughter in college.
Also, the interior is made from 100% REPREVE® Recycled Polyester. You can read more about it on the website, but it's made from post-consumer water bottles that have been converted to a resin that is texturized into a yarn. Pretty cool!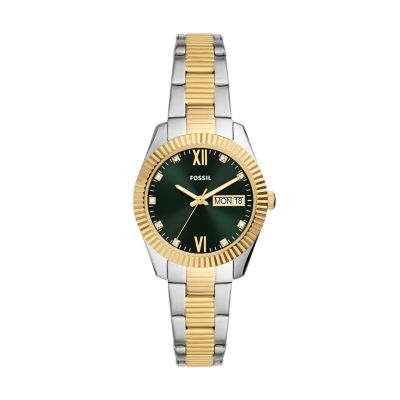 Scarlette Three-Hand Day-Date Two-Tone Stainless Steel Watch // If you're looking to gift a watch this year, this one is stunning! The two-tone strap can easily be paired with both silver and gold accessories and worn everyday. And as someone who can't always remember what day it is, I like that it has the day and date on it for easy reference.
Jacqueline Three-Hand Date Gold-Tone Stainless Steel Watch (30% off) // This is the perfect watch for her dressier outfits. The delicate gold bracelet strap adds the perfect amount of sparkle and shine, and that emerald green face sets it apart from the crowd. Plus, it's 30% off through 11/28, bringing it down to just $98!
Heritage D-Link Brown Leather Strap Bracelet // I love that Fossil has also expanded into jewelry! This leather strap bracelet would be a fun addition to any casual outfit.
Shop these and more gifts from Fossil:
Stay In Touch
If you liked this post, be sure you're signed up for my email newsletter. In addition to my most recent blog posts, you'll receive exclusive newsletter content like special sales, my newest favorite finds, and an occasional peek behind the scenes — all delivered right to your inbox.
I would also love for you to join my JLS Fashion Insiders Facebook Group! This is a friendly place to discuss all matters of fashion and style with other women, share your outfits, get advice, and stay up to date on all the happenings in our community.
This post contains affiliate links. When you shop through my links, it helps support my business (at no additional cost to you) so thank you!