Greetings, friends! I hope you're having a great week so far. Today I'm teaming up with Lucky Brand to style a summer outfit featuring my favorite style of their iconic blue jeans as well as this great little washed eyelet top.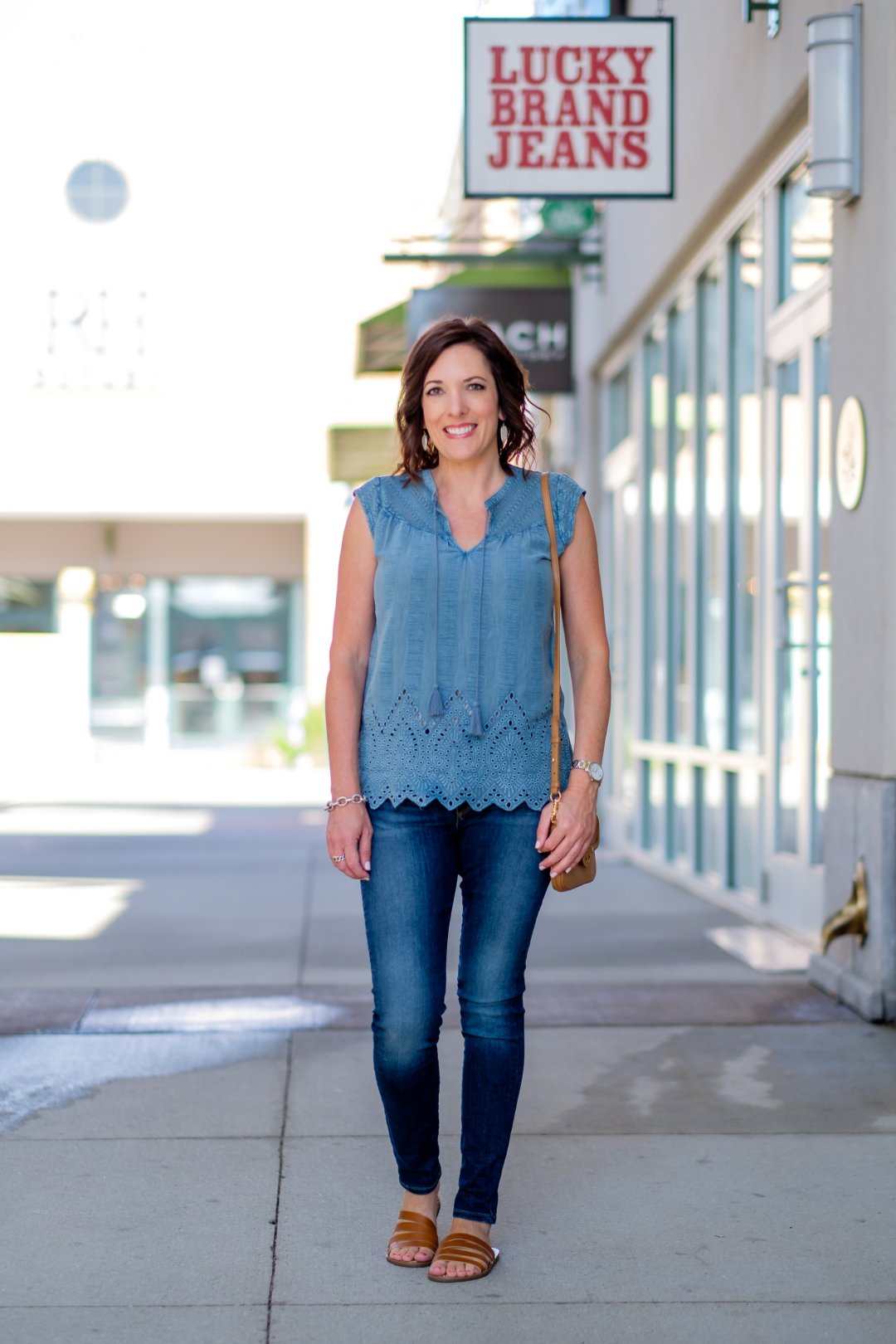 Notice the image above is clickable — just click the number that correlates with the item you want information about. Pretty slick, yes!?!
I'm also super excited to tell you about their 4th of July promo that is going on now and runs through Tuesday, the 4th!
SALE ALERT >> Get up to 60% off at Lucky Brand & BOGO 50% off denim!
This washed eyelet top is a great top for summer. I love the dusty blue color with the vintage vibe, and it has a nice shape to it. I also love the split neckline with tassel accents.
The eyelet keeps it light and summery, and it has some really pretty detail in the back too. You may want a camisole under it because the eyelet does show through a little bit. This top also comes in white.
Here's a look at the back. Isn't that pretty? I think I might like the back even better than the front!
This top would be adorable with white jeans or shorts, but for this post, I paired it with my Brooke legging jeans in a vintage indigo wash for a more casual look. FYI, I usually size up in Lucky Brand jeans and these are a 29, which is a size larger than I wear in most other brands. Also this top is a size medium, so if you tend to run in between sizes as I do, you may want to size up here too.
The eyelet top is not on sale, but the Brooke legging jeans are either BOGO 50% or an extra 40% off, depending on the wash.
These jeans have a nice snug fit to them, and they're very comfortable. Thanks to their bounce-back ultra luxe stretch fabrication, they don't stretch out much with wear, and they come in a variety of great washes. They have a 29″ inseam, which I like better with sandals and ballet flats than the more common 28″ because they keep the leg line long and lean.
I wore these strappy slide sandals because I like the combination of the cognac with the shades of blue in this outfit, and I wanted something in keeping with the overall casual look. I sized down a half-size from what I normally wear in sandals and they fit perfectly. They have cushioning in the footbed, and the leather straps are super soft and comfortable against the foot. Bonus, these are 40% off right now!
This is the type of outfit I like to wear when I'm going shopping or running casual errands when I'll be in and out of air conditioning. The jeans keep me from getting too cold indoors, but the top is light and summery and appropriate for the season.
I love this vintage casual vibe that is so typical of Lucky Brand, and this is a great time to take advantage of their sale to add a new piece or two to your summer wardrobe while there's still plenty of time left in the season to enjoy them. Don't forget, their denim is BOGO 50% off and many other styles are 40-60% off through July 4th!
washed eyelet top // legging jeans // slides (40% off) // pearl drop earrings (sold out, but most Lucky Brand earrings are 40% off) // similar crossbody (60% off!)
Be sure to visit Cyndi and see the summer outfit she's styling today!
Did you like this post?
Subscribe to get updates in your email inbox! You can also connect with me on Instagram and Facebook.
This post is brought to you by Lucky Brand. Thank you for supporting the retailers that support this site.