It's hard to believe, but Memorial Day weekend is almost here! For those of us here in the States, this is a time we set aside to honor those who have given their lives serving in the armed forces in order to preserve our freedom and way of life.
It has also become a weekend that marks the unofficial start of summer, and many of us celebrate with parades, picnics, and backyard barbecues so today I'm teaming up with Lucky Brand to share a casual summer outfit that I think would be perfect for any of those events. Lucky Brand is also running a fabulous MDW promotion that I'm sure you'll want to take advantage of — 40% off almost everything! (No code needed; prices as marked.)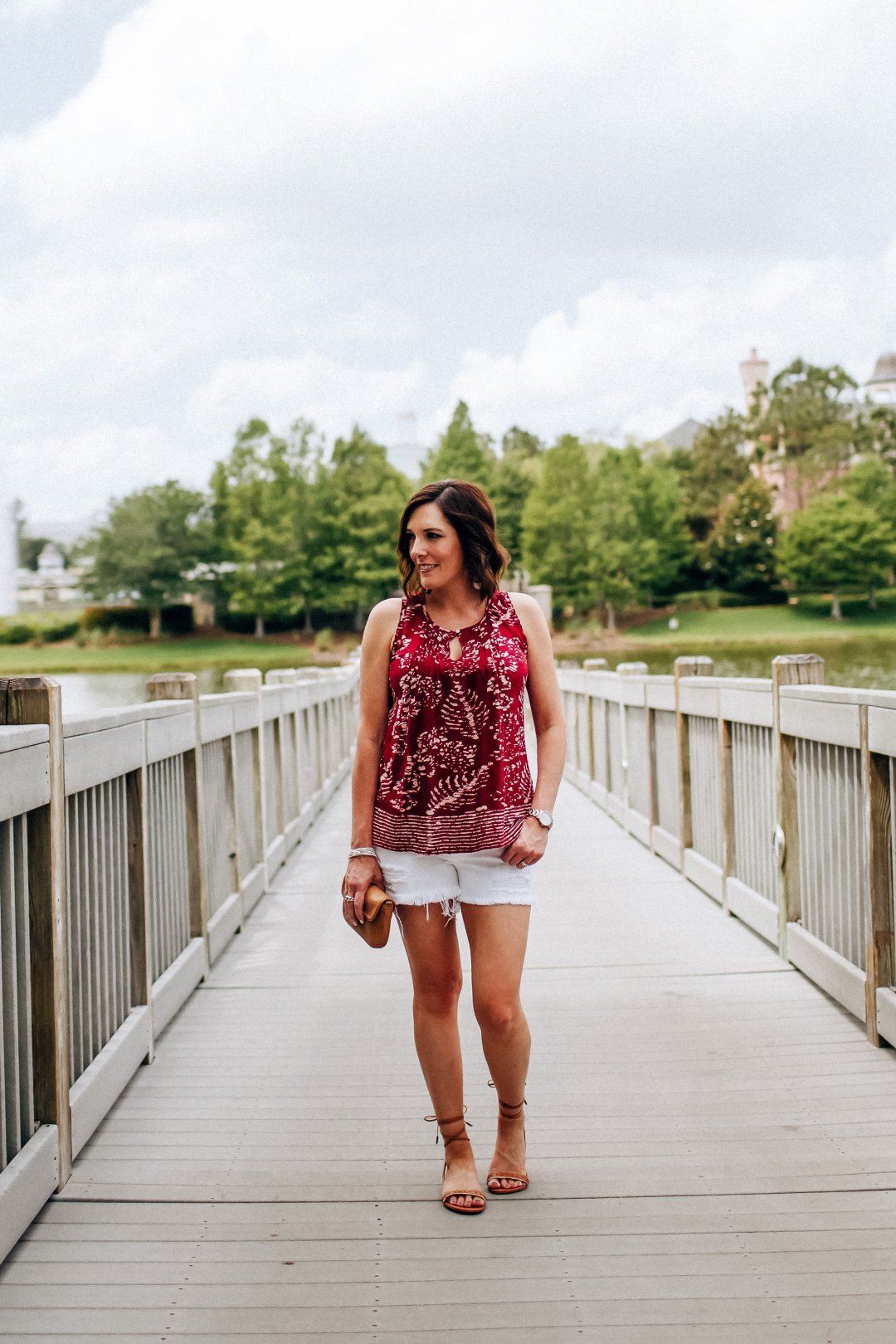 Notice the image above is clickable — just click the number that correlates with the item you want information about. Pretty slick, yes!?!
When I spotted this red and white batik tank, I knew I wanted to style it for Memorial Day or July 4th because it's festive without being too literal. I'm not one to drape myself in the American flag, but I do like to wear some combination of red, white, and blue for patriotic holidays. (The blue is on my toenails, in case you're wondering!)
This top would be cute with blue jeans or shorts, but I decided to style it with these white cutoff shorts. These are very distressed, but I like the fit, and I think the distressing adds some fun texture to the outfit.
For those of you who aren't fans of the deconstructed look, these white rollup shorts are cute, and Lucky Brand also has white denim Bermuda shorts as well.
Since most picnics and barbecues take place outside where there is grass involved, I recommend wearing flats. I love these neutral lace-up sandals. The fringe and studded details are fun, and they stay tied pretty well when I wear shorts or cropped pants that don't interfere with the laces.
While I really like the lace-up style, this strappy sandal is another great option and it is on sale!
I accessorized this casual outfit with these fun silver openwork earrings and a white and silver leather beaded bracelet. I like how they pull from the white in the outfit and keep the overall look summery and fresh.
I'm ready for whatever patriotic festivities the weekend may hold in this easy breezy summer outfit. Now let's just hope the weather cooperates!
batik tank // white cut-off denim shorts // open work earrings // leather beaded bracelet // lace-up fringe sandals
photo credit: Sydney Marie Photography
Today also happens to be the first day of my summer style series with Cyndi Spivey. We're teaming up again for 25 Days of Summer Fashion, where we each style 25 new summer outfits over the next five weeks. Be sure to visit Cyndi and see the Lucky Brand outfit she's styling today!
Did you like this post?
Subscribe to get updates in your email inbox! You can also connect with me on Instagram and Facebook.
This post is brought to you by Lucky Brand. Thank you for supporting the retailers that support this site.